|| About The Artist
D.U.R.A is an independent designer/illustrator based in Kuala Lumpur. She draws and sell her artwork and handmade products at local art market and online shop. She's the creator to her original fashionable animal characters ; Fashion-na-nimal Darlings and La Petite Illustrations. She made paper dolls out of her fashion characters in designer clothing from recycled cardboard, hand painted t-shirt, tote bags and accessories.
She also produce commissioned  fashion illustrations  for local fashion magazines. She's always on the move on experimenting new concept and themes, to avoid stagnant style without severely loosing her signature look. Her work is developing from a specific storyline and usually comes in series. She also loves to incorporate lace details, nature, patterns and fashion in most of her work.
|| Group Exhibitions/Installations:


March 2012
Esoteric Beauty, Space Womb Contemporary Art Gallery,
Long Island City, New York
March 2012
Urban Art Group Exhibition 
Pelita Hati, Bangar, Kuala Lumpur
Malaysia
September 2011
Asian Creative Culture (Group Exhibition)The Red Gallery, London
Brought by:"Insight" Malaysia Young Contemporary Designers Exhibition
October 2010
Rantai Art "HIMPUN" Art Exhibition @ Peti Seni ( Art Cabin )
The National Art Gallery, Kuala Lumpur
July-August 2009
Between The Lines Group Exhibition,
The Annexe Gallery, Central Market
July 2009
Bijou Bazaar @ Taste Asia (Installation)
Valentine Park, Ilford, London, United Kingdom
June 2009
F.ART : Where fashion meets art
Dude and the Duchess Fashion & Art Exhibition
Bangsar Village 2 Loft Gallery
March-April 2009
KL Design Week 2009 - SHOW + SHINE (Installation)
Capsquare, Kuala Lumpur
December 2008
Revelation, Rantai Art
The Red Bungalow, Jalan Ampang
October 2008
Divi5ion - A Group of 15 Art Enthusiast
Findars Space, The Annexe, Kuala Lumpur
|| Publishing:
2009, Hat Factory Publishing, Oswego New York (http://hatfactorypublishing.blogspot.com/)
2009, Curvy 6, YEN Magazine, Sydney, Aus
2009, Vol. 118, dpi Magazine, Taiwan
2009, January 123 Issue, KLUE Magazine,Kuala Lumpur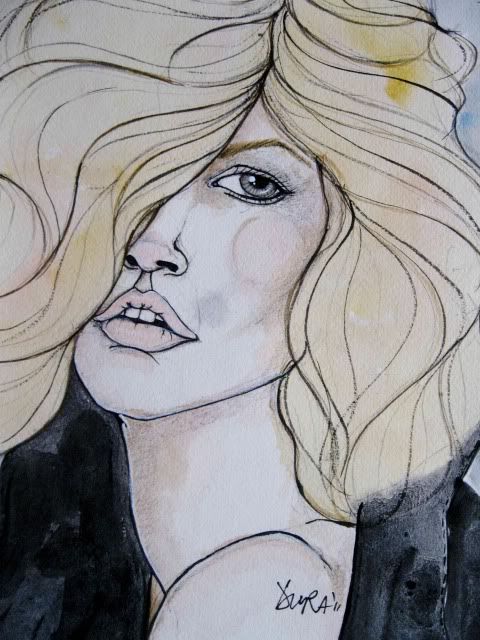 || Artist's Statement
I consider myself as a multidisciplinary artist. I draw and illustrate female figures combined with nature and intricate patterns and work on abstract paintings which I consider as a therapeutic medium. Seeing the world has been slowly crumbling down, I'd like to believe that life could be more joyous and colourful. I see human body, their expressions, minds and thoughts are a living library filled with lots of stories and those stories are the one that I want to tell. My subject matters always reveal and explore the ying and yang, black and white, love and hatred and they are beauty in them that I embrace in my body of work
When I paint, it's all about being, impulsive, free-form, gestural strokes and organic. The colourful seasons, the light of the day and the moods of the surroundings that flicked my emotions made me want to get my hands dirty with paints, runs the brushes, and gracefully dance the palette knives on the canvas. My paintings and illustrations usually starts with a colour idea, then patterns and then evolve into compositions in which the colours will tell stories.
To me, my art is a journey. It's a way for me to visually explore my life..my emotions, feelings, thoughts, experiences, and ideas. My primary goal is to inspire other people as how others' journeys have inspired me throughout the process of making my art.
I love how the famous quote by Joan Miro sounded, "I try to apply colors like words that shape poems, like notes that shape music." And I'd like to do the same....
|| About hello art lover
This online shop is dedicated to her buyers who would like to purchase her work online. We compiled her original work, prints as well as her handmade products.